|Table of contents | Learning HighRoad | Using HighRoad| Reference|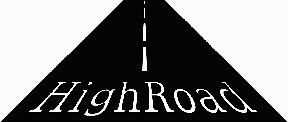 User Manual

Version 6.0

51 Amelia Street

Fortitude Valley Qld 4006

Australia

info@createng.com.au

www.createng.com.au

Phone +61 7 3666 0553

Fax +61 7 3352 6619

Copyright © 2001 Creative Engineering Australia Pty Ltd. All rights reserved.

HighRoad is a registered trademark licensed to Creative Engineering Australia Pty Ltd. Apple, Macintosh, Imagewriter and LaserWriter are registered trademarks of Apple Computer, Inc. Windows 95, 98, 2000 and NT4.0 are registered trademarks of Microsoft Corporation. MacForth is a trade mark of Megawolf Inc.

This manual was written by Chris Baker and Sue Thomson, with style advice from Sally Bick and Holly Robertson. Portions edited by Anne Cummings and Heather Knight. HTML version of manual created directly from NisusWriter.

HighRoad® has been written by Chris Baker (Copyright © 1986 - 2004) using MacForth (© Megawolf Inc.). Portions adapted from code provided by Megawolf Inc. Portions licensed from Ardi Inc.

Both this physical document and the right to use it are owned exclusively by Creative Engineering. This document may not be reproduced in any form either in part or in whole without the express written consent of Creative Engineering. Use of this document by others is licensed by Creative Engineering under the terms of the HighRoad Software License Agreement.

Before using HighRoad, carefully read the License Agreement. The licensee is required to check all calculations and drawings produced by HighRoad for accuracy and suitability for purpose.